IDO Media owns and manages many popular WeChat Official Accounts, both Subscription and Service accounts. Advertise on our accounts in several ways or have us create your own account to begin building your own audience. Need us to manage your account and handle inquiries until you have a Chinese-speaker on staff? We can help there too, both with account management services and bilingual recruitment. IDO Media is a full-service marketing agency with the expertise to bring your audience to you.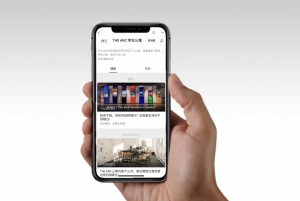 WeChat is the largest social media network in China, where Facebook, Instagram, YouTube, and Twitter are blocked.
With over 1 billion users, it is one of the largest social platforms in the world.
81.5% of WeChat users spend an hour on the app every day
WeChat is the most frequently used app among 87.6% of users
Over 23% of global internet users check WeChat daily
WeChat accounts for over one third of online time in China
Meant for posting content regularly, Subscription Account posts will appear in the "Subscriptions" folder of the Chats section. With a Subscription Account, you may push up to eight articles once per day to your subscribers. Subscription accounts are a great way to share quality content with your audience on a regular basis, maintaining frequency to stay top of mind.
Service Accounts are designed for those providing a service to their audience and posts appear as a regular chat, just as a friend or colleague's might. These accounts allow followers to receive up to four pushes per month containing up to eight articles each, typically used for personalized content such as order statuses or special offers. Service Accounts offer access to more customer-focused ecommerce tools such as payment plugins and push notifications.
Headline articles are the top story each day
Highest engagement with readers
Largest screen real estate for graphics
Most valuable position in each push
Can include image and video content
IDO Media can write and translate for you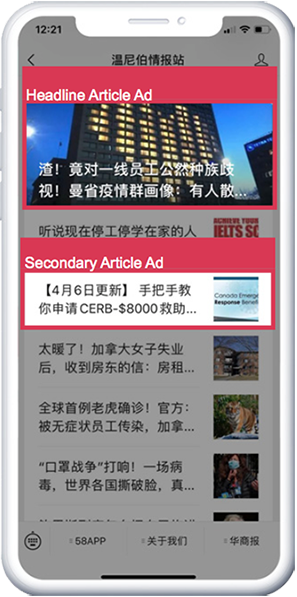 Secondary articles are more affordable
Perfect for high frequency campaigns
Less engagement than Headline Articles
Well-suited to interviews or press releases
Just as feature-rich with image & videos
IDO Media can write and translate for you
Have your Banner ad placed within IDO Media articles
Reach thousands of readers with a broad set of interests
Banner inserts appear in all articles posted each day
We post eight articles per day, six days per week
Affordable, suitable for high-frequency campaigns
IDO Media works with clients to translate and design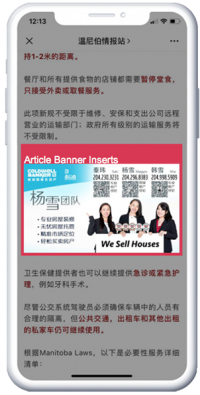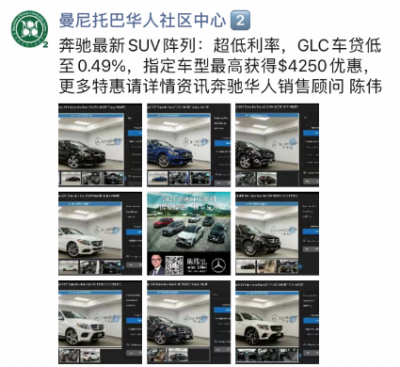 WeChat Moments are comparable to Twitter tweets
Moments are one of IDO Media's most popular services
Your Moments will appear to thousands in WeChat & Weibo feeds
Each post can contain up to nine pictures
Links can be included as a QR Code picture
Each post can contain up to 80 words
Effective personal connections for recruitment, promotions, and more
Videos, any length but ideally a minute or less
Wider appeal than text or static images
Easily shareable and discoverable
Leverage IDO Media's thousands of followers
Production and editing services available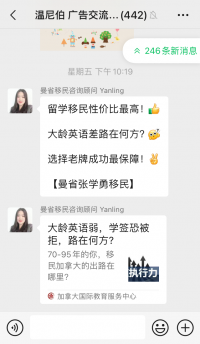 IDO Media is part of an extensive network of international WeChat groups
Blast your message to the relevant IDO Media groups
Precision targeting or wide reach based on your needs
Groups offer greater sharing possibilities, with up to 500 members each
Low cost option to generate word of mouth
Have your own presence on Chinese social media
Engage and receive inquiries directly from your audience
IDO Media takes care of all the details for the client:

Account registration, notarizing, translating
Account set up, auto-replies, welcome message
Audience management, post strategy
Group membership, subscription services
IDO Media can manage your WeChat account for you
Rest easy knowing IDO Media is growing your audience
We find a solution that works for you and your staff:

Receiving and translating inquiries
Helping to recruit Chinese-speakers
Training staff on how to use effectively
Providing information on best practices

Contact IDO Media today to discover WeChat services that will further your goals and fit your budget.
HEAD OFFICE
1B-1455 WAVERLEY STREET
WINNIPEG, MB R3T 0P7
BUSINESS HOURS
MON – FRI
9AM – 5PM