The City of Toronto is Canada's largest city and is known as one of the most diverse cities in the world. Chinese people in Toronto comprise over 11% of the city's population with over 600,000 Chinese residents, most making their homes in the Scarborough, North York, Richmond Hill and Markham areas of the city. Toronto is also known as a Chinese colony in North America.
In 2003, Fisher came to Canada from Beijing, China. He completed a Bachelor's degree in Applied Mathematics from the University of Manitoba in 2008. After graduation, Fisher began working as a business analyst at CAA Manitoba. He worked with CAA for almost five years, gaining a great deal of practical experience, including North American marketing analytical experience.
Due to his strong sense of social responsibility, Fisher Wang founded a non-profit organization, Manitoba Chinese Community Centre (MCCC) in 2011, MCCC is focused on providing information and various services to the Chinese community living in Manitoba. In 2013, Fisher founded IDO Media, a full-service media company with print and online platforms. IDO Media is now an established entity in the Chinese Community that provides news, useful information on major aspects of immigrant life in Winnipeg, access to information about local businesses, and more.
IDO Media platforms have become an irreplaceable bridge between local businesses and the Chinese community across Canada. The company's diversified marketing approach breaks through the barriers of language and cultural differences, creating a common ground between Chinese consumers and businesses that market to them. IDO Media aims to provide the local Chinese Community with access to the businesses they need, while increasing their revenue and market share.
Fisher enjoys a prestigious reputation among the Chinese community in Canada and has formed a strong network with all levels of government. He has worked on political campaigns on the Federal, Provincial and Municipal levels, helping candidates to win their campaigns. Fisher also donates much of his personal time to assist his fellow Chinese community members.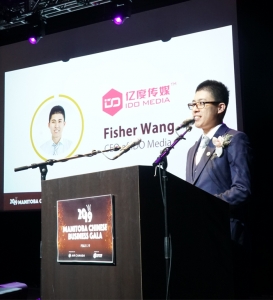 HEAD OFFICE
1B-1455 WAVERLEY STREET
WINNIPEG, MB R3T 0P7
BUSINESS HOURS
MON – FRI
9AM – 5PM